Who We Are
We've been coaching talented mid-career professionals and would-be entrepreneurs in Asia to create successful and fulfilling working lives since 2001.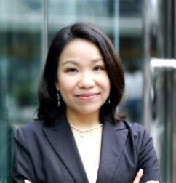 Monica Siu
Leadership Coach
Coach Monica is a certified coach at master level. She is experienced ​in ​Executive Coach​ing and Career Coach​ing​. She coaches leaders to build high performing teams, trains middle and senior management to coach like a professional coach. Concurrently, Monica also provides training and mentor coaching for new coaches to prepare for their coaching certification examination. Monica is the Master Masteries Coach of International Association of Coaching, one of the world's leading coaching certification bodies. She is strong in supporting her clients to make career planning, breakthrough and transition.
Monica holds certifications in Ontological Coaching, Enneagram Coaching and Harrison Assessments as well as an MBA. Monica believes that there is a giant within every single person. The sculptural image of David, a masterpiece, was found by Michelangelo within a huge block of marble that had been abandoned decades earlier by several other sculptors. The human soul, it is believed, could be found in a similar way within the physical body. So, Monica is highly passionate to explore with her clients the 'David' within them.
Having experienced how coaching transformed her from heart to soul, Monica decided to pursue her career in the profession of coaching and training in 2010. Since then she provides professional service to consulting companies and organizations in Asia Pacific, mainly in Greater China, in areas of leadership development training and one-on-one executive coaching. Monica has been the Part-time Lecturer of HKUSPACE since 2012, preparing coaching advocates for the professional coaching certification examinations offered by International Association of Coaching. Being inspired by the needs of her clients, she extended her coaching service to career coaching as well in 2013.
Monica's current and past clients include middle and senior managers who work for renowned companies in Asia from various industries including: industrial chemical and paper product manufacturing, banking and insurance, transportation services, education services and the HKSAR government. Monica's coaching style provides her clients with ample safe space to express, discover and reflect themselves freely and deeply. Her inquiring and positive mind encourages her clients to naturally increase their awareness, think out of the box and come up with 'Ah-has' along their journey of coaching.
Monica has more than 10 years experience in Talent Management and Human Resources Management in Greater China before starting her coaching career. This savvy adds extra value while she co-explores with her clients their possible career opportunities ahead. Monica works especially with Mid-Career Professionals and Senior Executives/Professionals.